Morocco is absolutely amazing ! I didn't expect so many pleasant people and contrasts like old towns named "Medina", beach and sea, huge Atlas mountais and desert.
This was my first visit of Africa continent.

You can spend time in Morocco in many various ways. I chose to spend time in Morocco in the historical city centers named "Medina" where people live totally different compared with life in new cities of Morocco.

I visited medina in Marrakesh and Fes including Tanneries. Fes Tanneries are 800 years old and it's an amazing place with unbelievably strong smell of rotten meat and raw animal skins.

It was a journey back in time. People sell the living chickens, vegetable, goat heads and animal legs, travel around Medina by donkeys etc. Well, I'm happy that I found what I was looking for. A piece of history in different world. I didn't want to visit modern cities like Casablanca or Rabat, so my point of view of Morocco is little bit different.

Morocco also offers three basic different amazing areas - Atlas Mountains, sea and desert. I didn't have time to visit the desert, but sunrise in Atlas mountains is incredible and so is the sea port in Essaouira with fish mongers.

Fes - Tanerries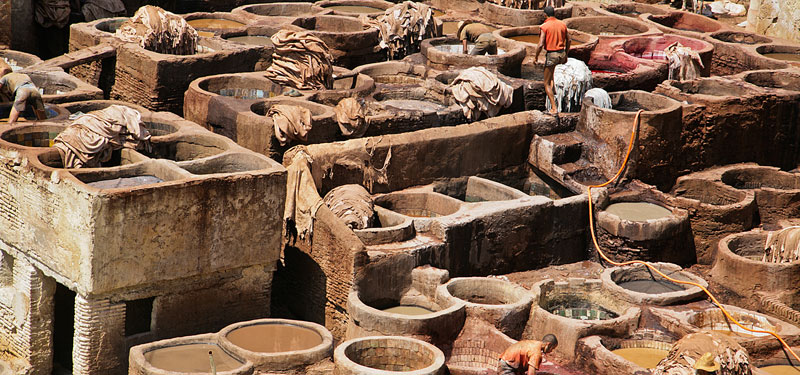 Trip information - distances
During 13 days we travelled more than 180 km by car (Marrakesh - Imlil and back), 1060 km by train (Marrakesh - Fes and back) and 350 km by bus (Marrakesh - Essaouira and back). The distance of one way flight from Vienna - Amsterdam - Marrakesh is about 3472 km. So altogether I travelled in this trip 1590 km (8534 km including flight from Vienna - Amsterdam - Marrakesh).